KISS그룹에서 직원을 모십니다. (Multiple Positions, Relocation Package 제공)
페이지 정보
작성자
YS001
댓글
0건
조회
5,491회
작성일

22-07-19 16:30
본문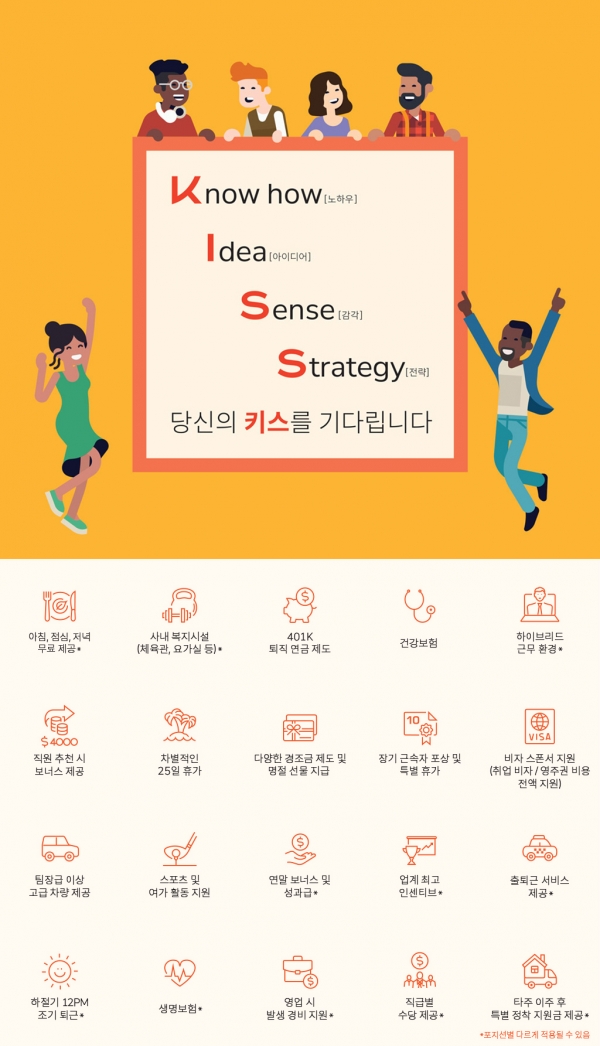 | | | | |
| --- | --- | --- | --- |
| 지역 | TORONTO | 직종 | 전문직 |
| 연락처 | careers@kissusa.com | 담당자 | - |
Find your dream job at KISS Careers Website!
Check out our KISS YouTube Channel to learn more about us!
To apply for the desired position, please click the position name or "Read More" next to it.
Product Planning & Development Strategy
Responsible for the development of strategic plans for current and future product portfolio, communication with various vendors, and the management of product and customer requirements.
Assistant Product Manager, Cosmetics (JR718)
Assistant Product Manager, Nail
(JR238)
Product Associate, Nail
(JR691)
Assistant Product Manager, Hair Chemical
(R1064)
Assistant Product Manager, Electronic
(JR584)
Product Specialist, Electronic
(R991)
Product Specialist, Brazil Supporting
(JR665)
International Operations
Assistant Manager, International Sales Operations (R1074)
- Coordinate between HQ and external sales personnel plus all internal communications with various teams.
- Communicate with our customers and fulfilling requests. Expected to prepare sales data and report to KISS International Operations. Read more
Assistant Marketing Manager, International Operation
s
(R1138)

- 
Administrates and directs procedure, methods, and supporting roles for Int'l Operation in overall.

-
 Organizes and carries out general tasks of international operation in LATAM, EU, UK
. 
Read more
Creative
Senior Production Designer (R1052)
- Production designer for package and display POP artwork. Read more
Senior Package/Graphic Designer (R1046)
- Supports the Creative Director in all phases of packaging design.
- Guide the design process from beginning to end. Read more
Junior/Senior Designer (R1153)
- Support developing the packaging design of Ivy Enterprise's products sold in the beauty supply market.
- This position involves but is not limited to brand logotype creation, package design, advertisement, display, etc. Read more
Marketing
Marketing Specialist (JR945)
- Supports data collection and analysis for strategic market segments, related to current and potential customers, and competitors.
- May present research results and recommendations to the upper management team to help their decision-making. Read more
Social Media/Influencer Marketing Associate (R1008)
- Supports the B2C Marketing team to increase brand awareness and create content with external agency.
- Maintain an elevated brand aesthetic, persona and voice on social media platforms.
- Creates campaigns and identify talents with external agency to promote new product launches and increase brand awareness. Read more
Trade Show Marketing (Associate ~ Manager Level) (R1156)
- Assist with the organization and implementation sales and marketing strategies to attain both short and long range organizational objectives.
- This will included organization of marketing materials, trade shows, and corporate events. Read more
Sales & Operations Management (SOM)
Ecommerce Portfolio Specialist (B2B)(JR844)
- Search and select products and/or product categories from B2C market to B2B market to create a diverse product portfolio
- Negotiate and source the selected products and communicate with all related parties (internal/external) to manage the product portfolio. Read more
Inventory Analyst (JR1018)
- Evaluate inventory levels to ensure proper allocation and replenishment.
- Analyze inventory statistics and key metrics to manage the product lifecycle. Read more
Finance
Multiple Positions in Finance (Intern ~ Manager Level) (JR894)
- KISS is looking for candidates for multiple positions in the Finance team. Read more
Logistics
Logistics Specialist (JR997)
- Oversee the key aspects of the inbound logistics process.
- Manage all import-related processes such as monitoring, scheduling, and problem-solving.
- Collaborate with internal & external teams for a consultation or issues related to import shipment. Read more
Supply Chain Management (SCM)
Assistant Manager, SCM (JR452)
- Oversee and manage the overall supply chain planning and operations of the Europe entity.
- Oversee the process efficiency and productivity and suggest solutions for process improvements by identifying bottlenecks and implementing solutions in a timely manner.  Read more
General Affairs
Facilities Manager (JR783)
Responsible for all Kiss-related premises' repair & maintenance including construction projects. Read more
Sales Admin
Sales Support Specialist (R1043)
- Support Specialist will assist the Sales Support/ Administrator with sales data support, sales activity, and marketing arrangements. Read more
Warehouse Manager - LA (R1060)
- Manage and operate the inventory and receiving of goods, and supporting the processing of necessary goods in the ordering process. Read more
Customer Service Specialist - LA(R933)
- Support Sales Team with responding to customer inquiries in a professional manner, assisting with sales order processes, and any shipping issues or delays. Read more
Sales Admin Specialist - AST (JR1009)
- Work with sales representatives or distributors for Domestic Sales Territories as well as for international customers in Europe and South America.
- Research and identify new product and business opportunities
- Manage/execute sales and service contracts for AST Sales and Marketing activities, and participate and manage industry trade shows and events. Read more
Operational Planning & Innovation (OPI)
Manager, Operational Planning & Innovation - Piscataway, NJ (JR972)
- Monitor metrics and manage operational performance on a day-to-day basis
- Make strategic recommendations based on quantitative analysis.
- Support Sr. manager(s) while working cross-functionally with KPI, Shipping, Logistics, Supply Chain and other KDC operation-related tasks to drive initiatives and be the champion of analytics standard methodologies, and decision-making. Read more
IVY Sales Associate (GA, IL, All other states)
We are looking for IVY Sales Associates in multiple regions across the U.S.!
The Sales Associate will be responsible for understanding and developing assigned territory to maximize and grow revenue and profits by selling the products to existing customers and acquiring new business. Conversational Korean is okay
영업직의 경우, 근무시간이 상이할 수 있음.
무경험자환영
- Atlanta, GA More Info
- Chicago, IL More Info
- New York Territory More Info
- Sales Support Team More Info
- All Other States More Info